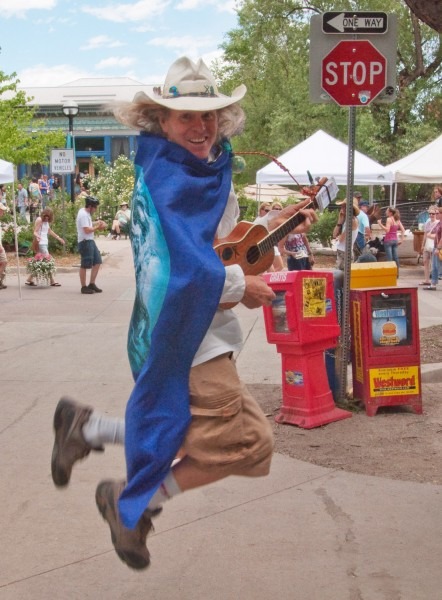 EarthE Man's eco music, green science and environmental award show is upbeat and rad. As the Lorax spoke for the trees, EarthE Man speaks for the animals of land, air and sea, and for the children of the future. EarthE Man takes his audience on future journeys to hear from and speak with critters and kids of the future. Ecological songs, sing alongs, amazing science, magic words, green awards, mind melds, eco autographs, enviro fashion and EarthE money are explored in these eco future journeys.
Grownups and kids at EarthE Man shows get to find out how their eco actions benefit specific wild critters and specific humans of the future. EarthE Man often gives out EarthE Awards and/or does a wicked environmental dance or cheer to honor specific audience members for their eco actions too.
EarthE Man also teaches people how to speak for their favorite species and future children. EarthE Man can demonstrate how to call on one's favorite species to energize our life, work, love and environmental powers too.
EarthE Man regalia includes the planet Earth cape, Earth globe head ware or other eco head ware, XO Earth face paint (with the X as a human and the Earth as the O), planet Earth bracelets, planet Earth necklace, temp tatoos and planet Earth clothing. EarthE Man dons this 'eco fashion' to show he loves planet Earth and to inspire others to give some street cred to Team Earth too.
EarthE Man can sing a song as part of a little *EarthE Award* ceremony to honor members of the audience for their eco actions. If an organizer, employer or teacher tells EarthE Man in advance about the eco actions that one or more of the audience have taken, he will sing a custom eco song to honor their actions. Signed EarthE Award(s) or other 'green awards' can be presented to the honorees after the song is sung. The good looking EarthE Award can be framed if requested.
EarthE Man is also the lead singer for the *GreenBeanz Band*and is MC for the *XOEarth Show*. His songs can be heard at XOEarth.org.
[fyi: EarthE Man and Stele Ely have never been seen at the same place at the same time.]
So call on EarthE Man to take your friends and group on an eco-smart-fun-musical-magical-future-journey at your event.
EarthE Man is available for performances at schools, businesses, special events, weddings and videos.
EarthE Man songs include:
On The Clothesline
Under The Rainbow
The Earth Is Our Mother
Bike'n Groovy / Eat'n Groovy
Walk The Talk
To Bee
Wolverine Dreams
My World
350 parts per million
For All The Life
So call or email EarthE Man today to schedule his solo gig, the GreenBeanz Band or the XOEarth show.
For more info about the XOEarth environmental music and award shows starring EarthE Man (sometimes called Earthy Man or EarthE Man), check out *XOEarth Shows*.
Boulder, Colorado, 80305 72O.34O.8O8O
emaiI steleely(et)yahoo(dat)com
call for the rates for these environmental shows, custom songs or custom videos
PS: Earthy Man says that you can be an Earthy Man or Earthy Woman or Earthy Kid too. Show you are on Team Earth. Show you are a hero for the planet. Contact Earthy Man with any questions about how to put your outfit together and some easy and some big eco hero actions you can do today. For the life, Earthy Man
tag: EarthE Man, Earthy Human, Earthy Man, RA