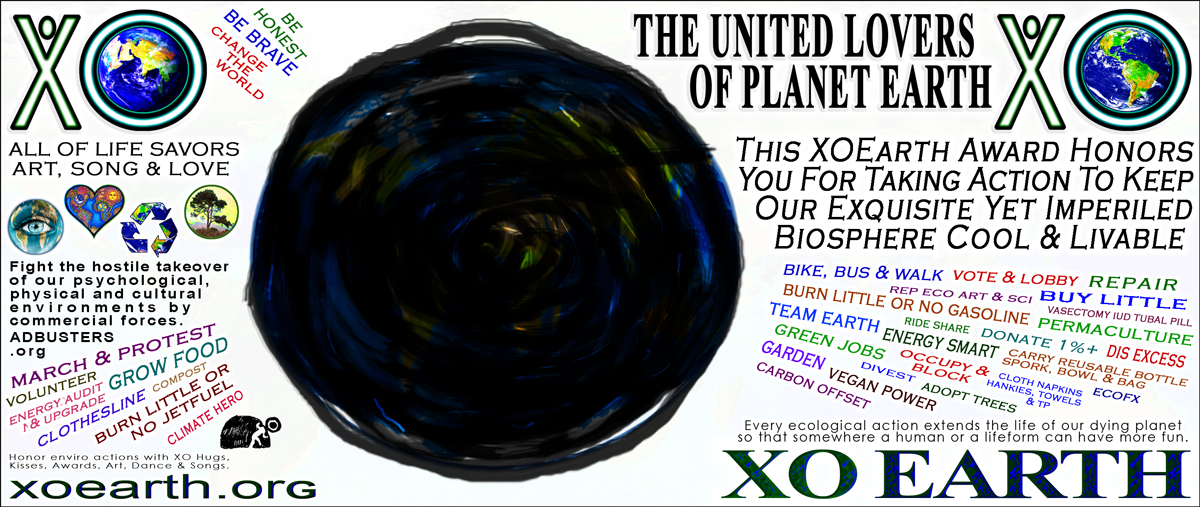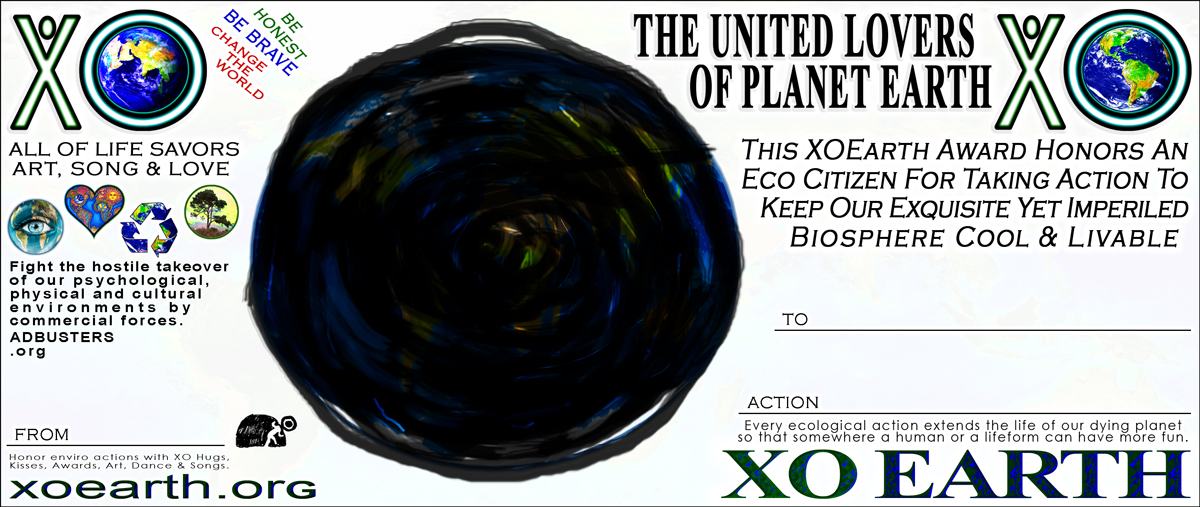 In recognition of Adbusters' Blackspot initiative that fights consumer ignorance and corporate psychopathy, all for the protection of our biosphere and to help keep it livable for its inhabitants, I hereby unveil the Blackspot ~ Adbusters commemorative XOEarth Awards.
All lovers of our Earth's biosphere are invited to copy and share, or print and give, the Blackspot ~ Adbusters commemorative XOEarth Awards to government officials, friends, businesses, customers, volunteers and employees to thank them for their environmental actions – either past or pledged.
~~~~ ~~~~ ~~~~
Hello. I am Stele Ely.
I made the Blackspot ~ Adjusters awards so I could give them to others to honor their ecological actions, get them to explore Adbusters compassionate warrior ethos, and encourage them to join other activists that are fighting the corporations that are killing our planet. I hope you will join me in doing the same.
One of Adbusters' credos is, "Be Honest. Be Brave. Change The World". I embrace and promise to live by that credo.
I have had a copy of Culture Jam by my bed since 2001. Kalle Lasn's words, the author, have influenced and empowered my eco activist actions every day from the day I read – and reread – that book.
Adbusters corporate wrenching mission birthed the Occupy and Occupy Wallstreet movements. The Occupy principles have empowered fierce and culture shocking tools that are helping slow the destruction of our Earth and the poisoning of its inhabitants.
Adbusters mission states, "Adbusters is a not-for-profit magazine fighting back against the hostile takeover of our psychological, physical and cultural environments by commercial forces. "
So a big blue and green monster thanks to the Adbusters for working freakin fanatically for our fine biosphere.
Read more and change the world with Adbusters.org >.
For all the life, Stele Ely
~~~~ ~~~~ ~~~~
XOEarth Award Printing Tips ::
To print these awards, first go to your browser's file menu and then to print preview. Decide which page you want to print. Set the margins to zero. Increase the custom size to between 100% to 107% depending on your browser. Then print.
There are two kinds of XOEarth Awards – Fast and Slow. Slow XOEarth Awards have a place to write the name of the person being honored, the eco action they have taken, and the name of the presenter. Fast XOEarth Awards don't need to be filled out.
Copy and share, or print and give, these and our other XOEarth environmental awards to honor and encourage eco actions.
---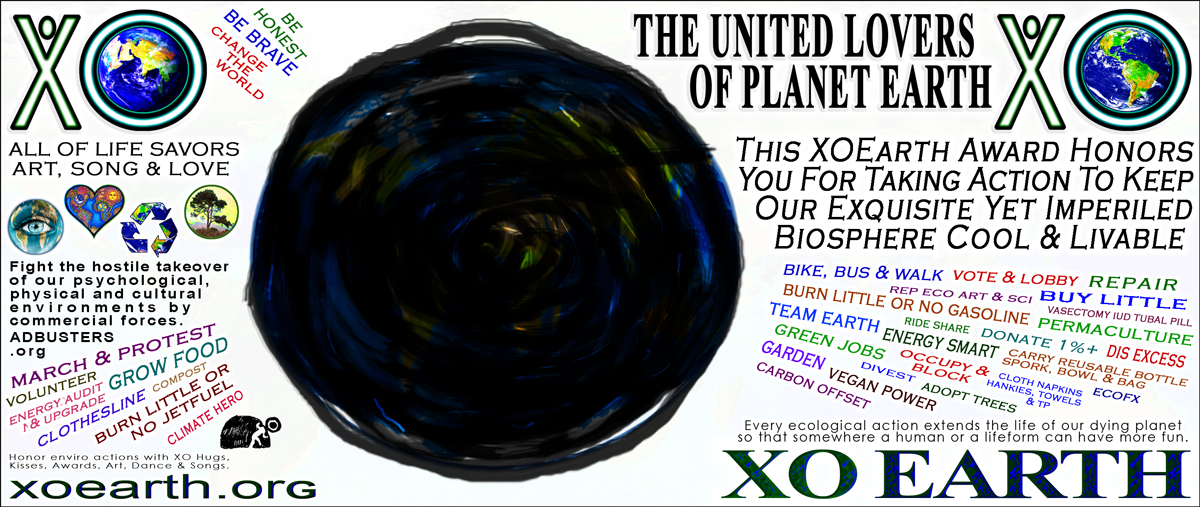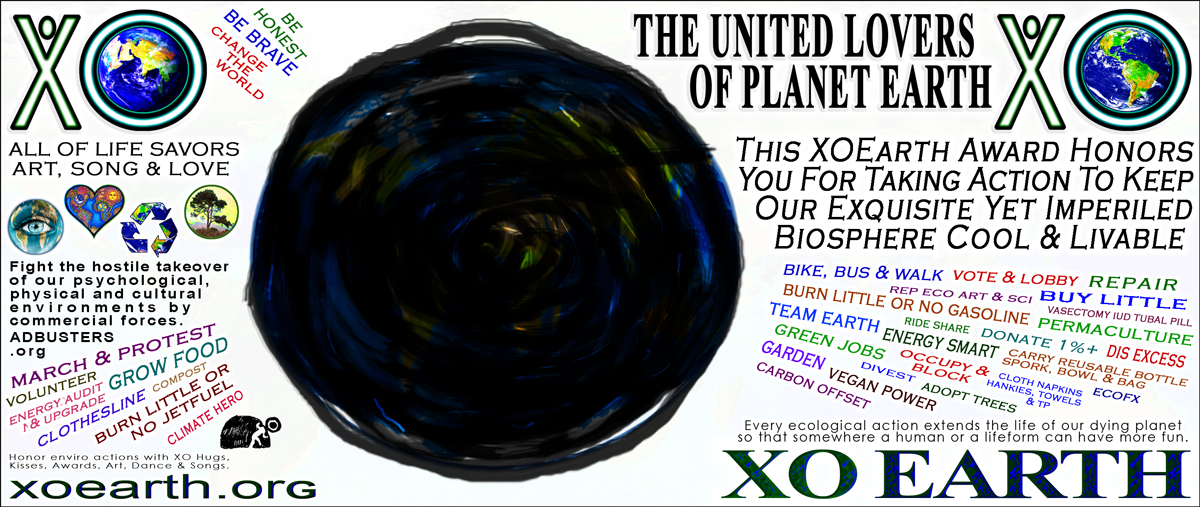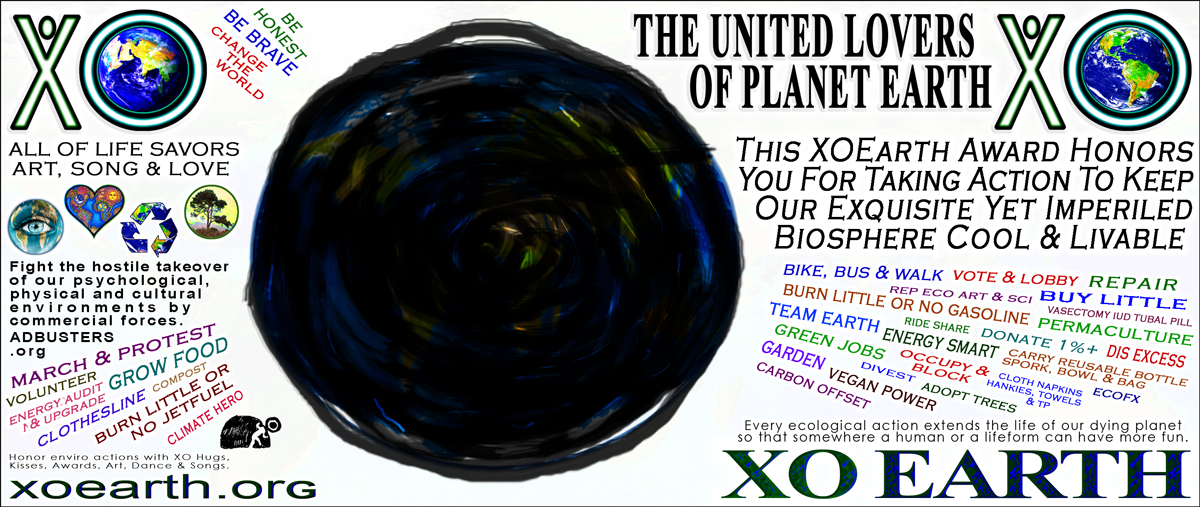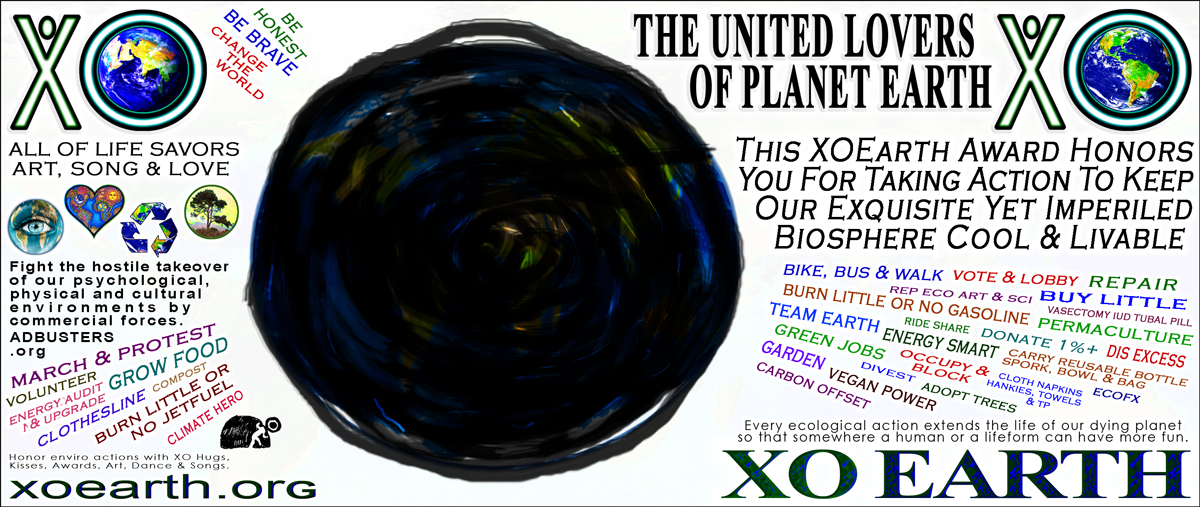 …