Earth Lovers,
Help. Get. Out. The. Vote.
Every climate change monster and disaster is dangerous and deadly.
+ They Hurt The Economy
+ They Fuel Inflation
+ They Endanger Democracy
+ They Trigger Wars And Crime
+ They Kill People And Animals
+ They Destroy Planet Earth
= Climate Change Monsters And Disasters
Let's get candidates elected who promise to fight the climate change monsters that are birthing the every bigger wildfires, heatwaves, floods and hurricanes.
So here are some ways to Help Get Out the Vote!!
Mobilize.us :: Take action with Turnout2024. Check out these ways to get involved! [www.mobilize.us/]
EnvironmentalVoter.org :: Environmental Voter identifies inactive environmentalists and transform them into consistent voters to build the power of the environmental movement. [EnvironmentalVoter.org.org]
Vote Forward :: Send Letters to Voters :: Writing letters to voters is one of the most effective ways to help increase election turnout. You can do it right from home. [votefwd.org]
RockTheVote.org :: RockTheVote.org has a good list of ways to get out the vote actions you can take. Check it out for ways to help your coworkers & classmates, friends & family and your community vote.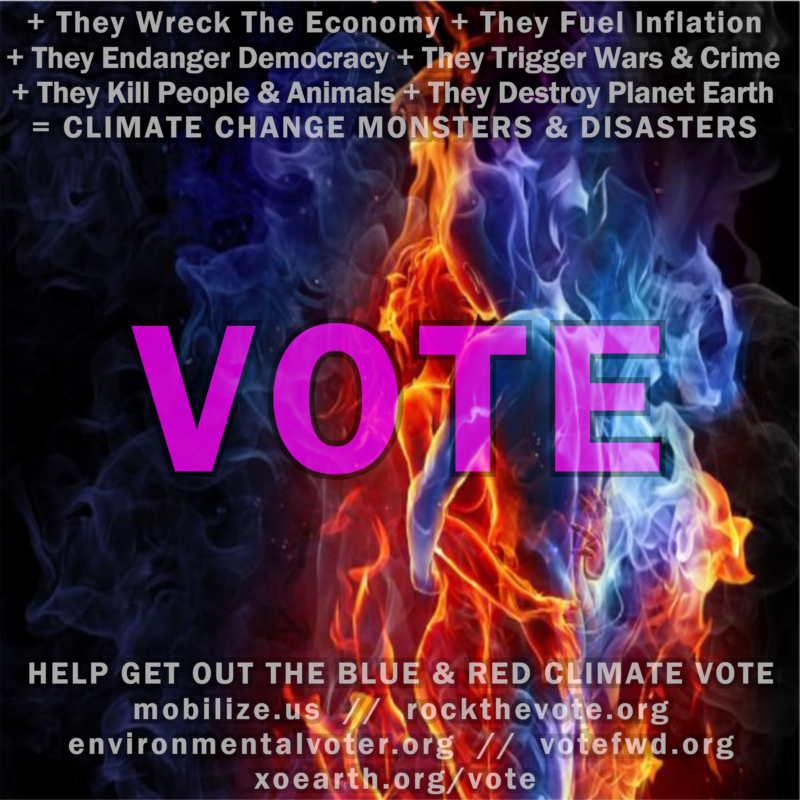 A few specific actions to Rock the Vote:
+ Arrange a pre-work "coffee & vote".
+ Organize a lunchtime carpool to the polls.
+ Make a weekend plan to vote and brunch with friends.
+ Plan to vote and dine. Order dessert to celebrate.
+ Meet up to vote, then go to your favorite hangout.
[RockTheVote.org]
Earth24 :: Your time helping get out the vote counts towards your Earth24 time!! [XOEarth.org/EarthDare]
The coming election will help decide how many and how big the climate change monsters and disasters will get, and in turn how much they hurt the economy, speed up inflation, endanger our democracy, and kill people and lifeforms.
Let's keep this biosphere livable so we can keep having fun.
Fomo funn, Stele