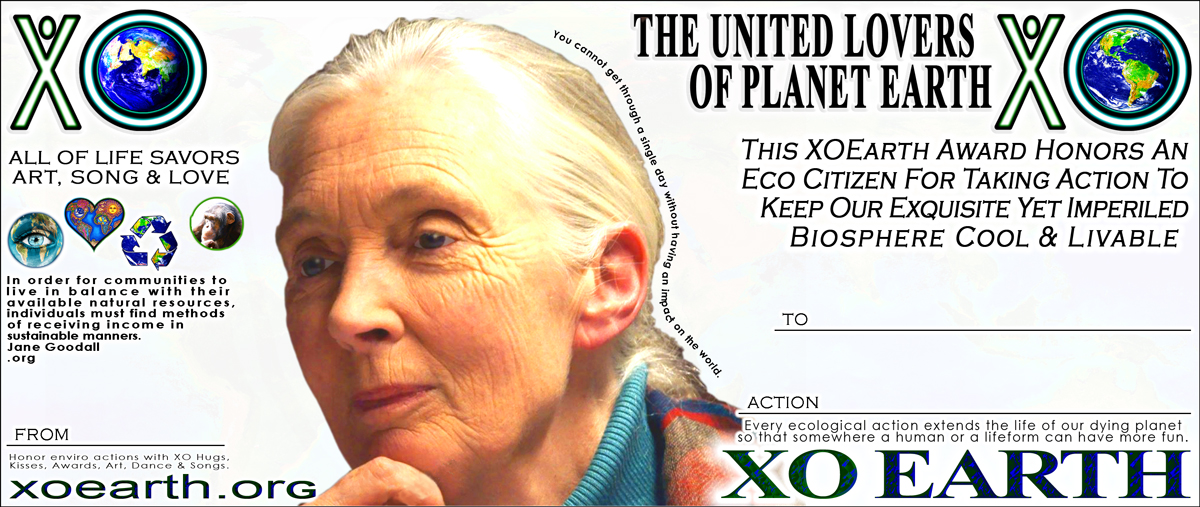 In recognition of the Jane Goodall Institute's and founder Jane Goodall's crucial work in the protection of our biosphere, we are honored to unveil the Jane Goodall commemorative XOEarth Awards.
We invite all lovers of our Earth's biosphere to copy and share, or print and give, the Jane Goodall commemorative XOEarth Awards to your government officials, friends, businesses, customers, volunteers and employees to thank them for their environmental actions – either past or pledged.
The Jane Goodall Institute and Jane Goodall inspires individual action to improve the understanding and welfare of great apes and to safeguard the planet we all share. Their mission is based in Dr. Jane Goodall's belief that the well-being of our world relies on people taking an active interest in all living things.
As stated by the Jane Goodall Institute, "JGI works to inspire action, by individuals, communities, governments and other global organizations . We believe in the power and possibility of action to reverse. We support community-centered conservation throughout Africa's Congo Basin, engaging with individual stakeholders to garner long-term conservation impact; additionally. We support young people in more than 130 countries across the globe as they work make positive change in their own communities. Our cutting-edge use of technology ties our high-impact conservation work in Africa to our citizen-science projects led by youth groups across the globe."
They say, "JGI's multifaceted efforts- to protect great apes and their habitats, to improve human livelihoods, and to encourage the next generation to care for the world- creates an integrative approach to achieve Dr. Goodall's vision of Earth as a place where people, animals, and the environment exist in sustainable harmony."
Please read more and take action with the Jane Goodall Institute at JaneGoodall.org >.
A big thanks to the Jane Goodall Institute and Jane Goodall for working so tirelessly for our priceless biosphere.
For all the life, Stele Ely
~~~~
Printing Tips::
To print these awards, first go to your browser's file menu and then to print preview. Decide which page you want to print. Set the margins to zero. Increase the custom size to between 100% to 107% depending on your browser. Then print.
There are 4 print pages to choose from below. The 1st page has 2 fast and 2 slow awards. The 2nd page has 4 fast awards. The 3rd page has 4 slow awards. The 4th page has 1 big fast award and 1 big slow award. More printing tips >
Notes: There are two kinds of XOEarth Awards – Fast and Slow. Slow XOEarth Awards have a place to write the name of the person being honored, the eco action they have taken, and the name of the presenter. Fast XOEarth Awards don't need to be filled out.
Copy and share, or print and give, these environmental awards to honor and encourage eco actions.
---
…