Give XOEarth Awards to honor friends, businesses, customers, employees and others for taking environmental actions to slow down the Climate Change Monsters – Hurricanes, Wildfires, Floods and Heatwaves.
Feel free to copy and share, or print these XOEarth Awards, or, send us a self addressed stamped envelope and we will send 6 XOEarth Awards to you for free – info below *.
There are two kinds of XOEarth Awards – Fast and Slow.
Slow XOEarth Awards have a place to write the name of the person being honored, the eco action they have taken, and the name of the presenter.
Fast XOEarth Awards don't need to be filled out. Fast XOEarth Awards can also be called EarthE Money – their retro name.
Fast XOEarth Awards [Money] and Slow XOEarth Awards
•
Awards Mix + Over 24 Designs
•
Buffalo + Sierra Club + Earth Guardians *
•
Polar Bear + NRDC
•
Squirrel + 350.org + PETA *
•
Fish + Sierra + 350.org
•
Mandrill + LCV + Climate Reality Project *
•
Jane Goodall
•
Praying Mantis + NRDC + Citizens Climate Lobby *
•
Gibbon + 350.org + Carbonfund.org + Climate Reality Project *
•
John Muir + Sierra Club
•
WorldFace + Greenpeace + PETA *
•
Hawksbill Sea Turtle + Greenpeace + Environmental Defense Fund *
•
Orangutan + Grist + Sierra Club *
•
Eco Sexy Man & Woman + Grist + Leonardo DaVinci
•
Eye World + Climate Reality Project
•
Dolphin + Sea Shepherd + NRDC *
•
Bird + Earth Justice + PETA *
•
Climate Reality Project + Al Gore + Impacts + EyeWorld
•
World Climate Action + 350.org
•
Cougar + 350.org Colorado
•
Humpback Whale + Paul Watson + Sea Shepherd *
•
Elephant + League Of Conservation Voters + NRDC *
•
Apple [.net]
•
Paul Watson + Sea Shepherd [.net]
•
Global Warming Map [.net]
•
Vandana Shiva [.net]
•
Orca [.net]
Printing Tips
Check out our Printing Tips page for the best way to print XOEarth Awards and XOEarth Money [EarthE Money].
Free XOEarth Awards by Mail
If you would like us to send you 6 XOEarth Awards for free, pick from the designs that have an * asterisk – they are the one's we have printed now. They are 6.5″ x 2.75″. Send us a self address stamped envelope. For each additional 6 more XOEarth Awards, please send $2.
If you would like us to mail an XOEarth Award to honor someone who is taking environmental actions, send us a stamped envelope that is pre-addressed to the recipient. Pick from the designs with the * asterisk. If you would like, Stele will write their name artistically on an Earth that he will draw, on the back of the award. Stele will personalize one XOEarth Award for up to 4 in a household and mail it to them. Sounds fun, eh? For each additional 6 more XOEarth Awards mailed from us in 6 envelopes that you send us, please send $4.
Fast XOEarth Environmental Awards
The Fast XOEarth Environmental Awards are good for everyday use because you don't have to fill them out, they are good for honoring big and little eco actions, and they are a fast way for honor several people at once.
Have fun using these environmental awards and eco logical money to honor friends and associates for their ecological actions, and to support programs that encourage specific eco actions — such as a *bike to work month* or other energy conservation awareness programs.
To use Fast XOEarth Awards you can give them to others as is. That's why we call them Fast. However, if you write a little note on the back when awarding it, that's nice too. Sending XOEarth Awards or Money by email is another great way to use them.
Slow XOEarth Environmental Awards
To use Slow XOEarth Awards to honor others for their eco actions ::
1/ Fill in the person's or business's name on the "TO:_______" line.
2/ Enter what action they have taken for the planet on the "ACTION:_______" line.
3/ Sign your name on the "FROM:_______" line.
4/ Then present it to the person or business!
Dedications
A lot of the XOEarth Awards have been dedicated to one or two of our fave environmental organizations. To see who they are dedicated to look on the left side the award.
Plus, some of the XOEarth Awards have been dedicated to four of our fave eco heros. The faces of those Earth defenders can be found on those awards – although somewhat cloaked.
Custom Designs
We are happy to design custom XOEarth Environmental Awards and custom XOEarth Environmental Money for groups, organizations, sustainability coordinators and company sponsored sustainability incentive programs. [For free.]
For Businesses
Businesses can use XOEarth Awards to honor and give a discount to environmentally conscious customers via the XOEarth Credit/ Discount program.
For a person to qualify for an XOEarth Credit/ Discount, the XOEarth Award that they remit needs to have that person's name, and the signature of the person who awarded it to them, handwritten on either the front or the back.

More XOEarth Award versions can be found via the Environmental Awards category search.
Retro – Fast and Slow EarthE Awards [and Money]
These are pre XOEarth Awards!
•
NYC and Manhattan Slow and Fast
•
Globe For All The Life
has "For All The Life That Loves To Live" on the equator, Curb Global Warming Planet, and SierraClub.org sub.
•
IOU EarthE
– a promise note – IOU version of a call to eco action.
• The
EarthE XO
is a pocket pledge to dedicate your own eco action to someone.
• The
FUTURE EarthE
is an Future eco action pledge and then hand off.
*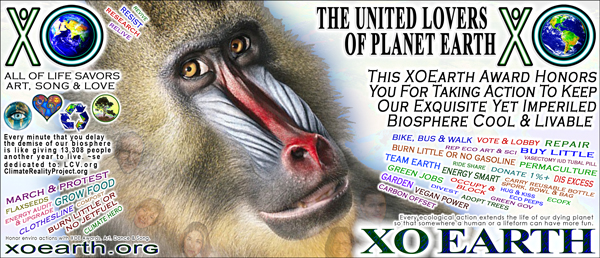 *
*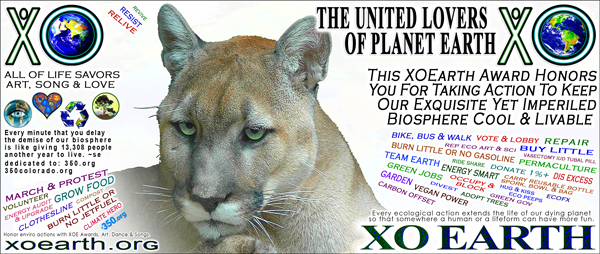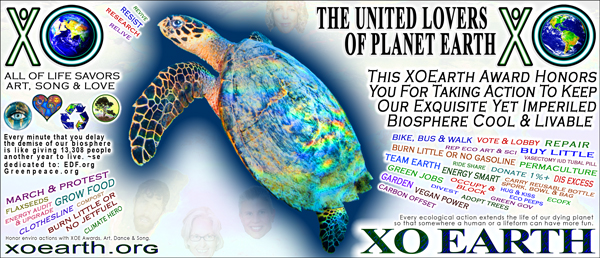 *