3.50 eee, so nifty eee, our rad planet needs, 3.50 .eee
CO2 parts per million to make our climate fun
so let's all reduce some, mahX8 CO2 parts per million, nahX8
pelican, farmer, coral, dancer, orca, nerd too
say reduce, reuse recycle to make less CO2
penguin, mom, salmon, dad, lion, crab too
say repair restore rethink to get cool won't you
4.15 .vvv, too hot to thrive/ 2011 didn't jive (with) 3.95 .vvv 1 4 5 c f g
CO2 parts per .million, . fires and drought, less .fun f g x2
so let's all .reduce some, mahX8 .CO2 parts per .million, nahX8 f g x2
marmot, starfish, singer, beetle, butterfly, hiker too
say reverse global warming no spewing CO2
bluejay, bff, orangutan, lover, sparrow too
say reinvent regift rebel to be cool me too
2.75 .vvv, .pre industrial .time, no fossil fuels .(to) fry , 2.75 .vvv 1 4 5 c f g
CO2 parts per .million, . the weather was more .fun f g x2
so let's all .reduce some, mahX8 .CO2 parts per .million, nahX8 f g x2
cheetah, frog, toddler, giraffe, lemur, moose, too
say stop climate change put a tax on CO2
plankton, artist, whale, falcon, geek, pillbug too
say repurpose respect recover to get cool its true
350 eee, so nifty, this party planet needs, 350¬¬
CO2 parts per million, makes our climate .fun
we can all reduce some, CO2 parts per million
poet, zebra, cricket, cat, geek, dog too
say reduce, reuse recycle to make less CO2
gibber (dah dee dah doo waa shaa) to
re de re be re te re to get cool its true
4.15 .vvv so 2012, too hot for penguins. 3.97 . 1 4 5 c f g
CO2 parts per .million, . cool it to have more .fun f g x2
so let's all .reduce some, mahX8 .CO2 parts per .million, nahX8 f g x2
3.50 .eee, .so .nifty .eee, our rad planet .needs, 3.50 .eee 1 4 5 c f g
CO2 parts per .million .to make our climate .fun f g x2
so let's all .reduce some, mahX8 .CO2 parts per .million, nahX8 f g x2
350 CO2 PPM /stele c12
~~~~~~~~~
Consider donating a few quarters to support this song and to keep Stele writing other environmental songs. Your tips will help get this song properly recorded and performed by touring musicians who can get this song working for our biosphere.
Please pass this song around to friends and favorite musicians.
Musicians:: Arrange, record and remix a better version of this song. I may be able to share the copyright for your work.
Perform this song at your gigs to help our planet.
Fans:: Sponsor this song and get partial copyright — $44 can get you a copyright certificate showing your percentage of the copyright (the percentage varies depending on the song). By the way, $44 pays for a day of Stele's life expenses including rent, food, guitar strings and other vitals). Plus, I will keep improving the song.
Artists:: Help us do a video for YouTube or do other multimedia goodies for the song.
Students:: Intern with Stele and help get this and other songs on the charts.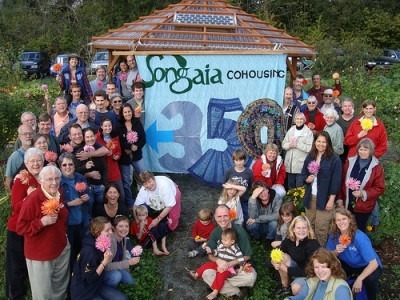 Bothell, Washington, USA, Oct 10 2010
Friends and neighbors gathered for the Songaia Cohousing Solar and Permaculture Work Party to promote sustainable agriculture as a solution to climate change and urge leaders to pass clean energy policies.
This was one of over 7,000 climate action events taking place in 188 countries around the world on 10/10/10 as part of "The Global Work Party." This synchronized international event is organized by 350.org, and is expected to be the largest day of environmental activism in history.