Your local XOEarthWorks Members offer services to help you protect our planet and save money.
Depending on the expertise of the member that you hire, they charge from $10 to $60 per hour.
All Members are independent, self-employed and pay no fees to XOEarth.org.
All Members pledge to donate 1% to selected environmental orgs.
** Contact us at 720.340.8080 or via xoearth.org/contact for more info or to hire us. **
** To become listed as a working Member with us please read footnotes. **
Gardens Inside /Outside & Hoopdomes.
We can help you start and maintain a garden year-round to grow yummy herbs and veggies — inside or outside. Container, hoopdomes, hoophouse and pyramid gardens are vital and good for the biosphere. Contact us for help with your garden today.
Xeriscaping /Landscaping.
We offer human powered, high quality landscaping, xeriscaping and lawn services to save our planet's water, air and land. Get a beautiful yard while reducing fertilizer pollution, protecting life and our climate. For existing lawns, we can show you a mowing style that leaves swaths of grass, clover and wildflowers for a more beautiful lawn and to burn less gasoline. "A little long grass can save our itty bitty gas." Let's not waste our limited oil reserves.
Stylish & Stealthy Clothes Lines.
We can help you put up a sweet looking outside or inside clothesline that is far more ecological than using a clothes dryer. It takes 4 or more power plants to power US clothes dryers. We can also install filters on conventional clothes dryers to re-route heat back into your house.
Composting Inside /Outside.
We can help you setup a snazzy compost bin that helps protect the climate, produces fertilizer and is a fun home for earthworms and rolly pollies. Landfills create methane – a major greenhouse gas – when yard trimmings, fruit and vegetable food decompose.
Organic & Local Food.
We can help you find groovy organic farmers to reduce the pesticides on your food, protect rivers and lakes, save wildlife and reduce global warming. We will connect you with a local Community Supported Agriculture (CSA) cooperative too.
Water Conservation.
We can install toilet bowel flush control retrofits or low-flush toilets that are eco smart. Let's put in low-flow showerheads, low-flow faucet aerators, water filters and timers. We can fix those drippers too.
Responsible Investing.
We can recommend environmental non-profit organizations to contribute to or reserve assets for — in exchange for tax perks.
We can also recommend our favorite green investment funds that focus on ecological commitment.
Eco Teams & Organizations.
We can help you pick an excellent environmental organization to support. Examples include The Sierra Club, EDF, Nature Conservancy and XOEarth.
Eco Car & Airline Talk.
We can help you offset your car and airline carbon footprint via inexpensive carbon credits. We can refer you to ecological car repair services, car upgrades, help permanently retire an older polluting car, and help you find ride shares. We can also help you find ways to drive less. Let's reduce our foreign oil imports from oppressive regimes. Tips: Check tire air pressure, get regular tune-ups and change car oil to save 10%/yr.
Install Smart Thermostats /Nest.
We can install an inexpensive programmable, self-learning, sensor-driven, Wi-Fi-enabled thermostat, smoke detector, and security system. We can teach you how to use it and provide ongoing support. You can use a smart phone to monitor and change settings if you want to.
Refrigerator & Appliance Coil Cleaning.
We can clean your and freezer coils, and clothes dryer ducts, to save lots of energy and improve indoor air. Insulating refrigerator sides – especially old ones – is crucial too. We can make your home spiffy clean with the eco and healthy cleaning supplies we use.
Window /Door /Fridge /h3O Insulation.
To insulate windows and doors we can install clear plastic or plexi double pane inserts, and do caulking and stripping to help keep your home cozy. Nice looking magnetic blankets for refrigerators and water heaters are another eco upgrade.
Coordinators & Coaches.
One of our sustainability assistants, coordinators, coaches or consultants can work for you for as little as 30 minutes a month or up to full-time – to help your business or home become more environmentally responsible.
Our sustainability members can help you by:
• Maintaining recycle and composting stations that are neat and informative.
• Doing an Earth News[letter] and Eco Vids for the business's social media, bulletin board, website and company email.
• Restocking, organizing and cleaning sustainability structures and supplies.
• Installing, maintaining, repairing or updating a recycling station, a building or other eco structures.
• Creating incentives and honoring employees or family members for their eco logical actions.
• Offering advice on how to make a product more sustainable.
• Helping your biz or home fight the climate change monster heatwaves, floods, wildfires and hurricanes.
Painting Outside /Inside.
We can help you seal and paint your house, fence, cabinets, outdoor furniture, asphalt driveway and roof to help protect them so they last longer.
Audits, Repairs, Upgrades & Remodels.
We offer energy audits to help identify cost effective ways to power up your home's energy efficiency – including a structural energy efficiency scan. For big repairs and upgrades, we will introduce you to our favorite eco contractors and energy upgrade pros.
Eco Energy Tricks & Tips.
We can help you buy and install energy-efficient appliances, automatic timers, movement sensors, light switch dimmers and programmable smart thermostats. Sign up with our favorite renewable energy companies too.
Tips: Check oven and refrigerator gaskets. Avoid preheating ovens. Clothes lines are far more eco than gas and electric clothes dryers. Clear the lint filters. LED lights can save $40/yr. Set water heater at 120-130F, refrigerator at 37F, freezer at 3F.
---
---
The XOEarthWorks Mission ::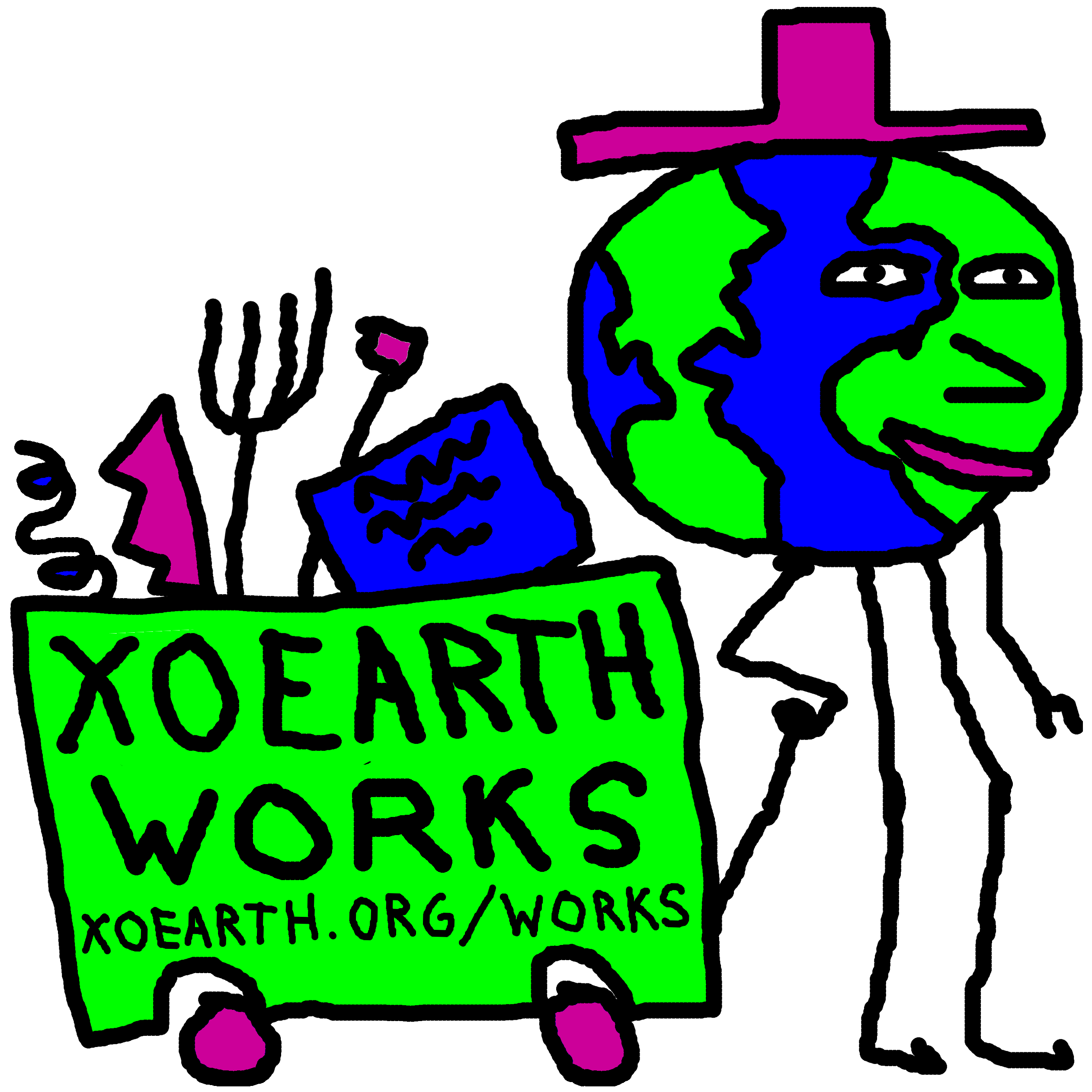 + To help motivated, environmentally conscious people start and operate their own businesses that offer ethical ecological services and products that help protect our biosphere and save money for the customer.
+ To help build a global network of self-employed eco workers that help one another via expertise sharing and referrals.
+ To help raise funds for crucial non-profit environmental organizations by asking eco workers to make voluntary contributions.
+ To not charge individuals any fee or commission to be a XOEarth
Works
Member.
If You Become An XOEarthWorks Member ::
+ You can offer a range of services to your neighbors that help protect our priceless planet and save your neighbors some money.
+ You can contact your neighbors and/or local businesses, and give them a flyer with a list of services that will make them achieve their sustainability goals.
+ You can circle or mark the services on the flyer that you can do for them. You can offer referrals to other businesses for services you do not do.
+ For any service on the flyer that you do
not
do, there are these options:
1] You can ask your neighbor or the business if you can have your favorite business that does that service contact them.**
2] You can give your neighbor or the business a flyer from your favorite business that offers that service.**
3] You can give them the name and phone number of a business that offers that service.**
4] You can help them use or suggest Yelp.com, a web search, BBB.org and more.
** These options give you the possibility of earning a commission from the business referral.
+ Our
Sustainability Coach + Manager
and
Sustainability Cheerleader + Manager
pages have a lot of more info, especially if you want to do this work for businesses.
+ We hope you will offer some services for free and some services for a fee. Helping others green up their homes and biz – sometimes for free – helps build community and extends the life of our biosphere.
XOEarthWorks Member Pledge ::
+ I pledge to work ethically to help create a sustainable society by providing environmental services, referrals or products to individuals and businesses.
+ I pledge to only do work or perform services that I have properly studied and trained for.
+ I pledge to contribute 1% or more of my gross earnings/ sales (before any expenses or cost of goods are deducted) to one or more non-profit environmental organizations.
+ Some of our approved organizations that you may choose to donate to include the Sierra Club, Greenpeace, NRDC, Nature Conservancy, 350.org, Union Of Concerned Scientists and our own
XOEarth.org
.
+ I pledge to create a
XOEarth.org/works-members
profile page where I can post recommendations I have received from customers, post how much I have donated to the environmental
organization(s) of my choice and get XOEarth
Works
news and updates.
+ I acknowledge that I am not an employee of, nor a contractor for, the XOEarth
Works
organization and that all moneys that I collect are my own.
+ I agree to uphold these current and future pledge agreements in order to use the XOEarth
Works
name and materials.
Welcome ::
If you are an environmentally conscious individual that wants to provide one or more of the ecological services listed above, then we welcome you to go to
XOEarth.org/works-members
, join us, and tell us about yourself and why you want to be an XOEarth
Works
Member. We can help arrange the training for some of these services.
If your reasons to join XOEarth
Works
sound good, then::
1/ You will be invited to take the XOEarth
Works
Member Pledge.
2/ Your name and profile will be added to the
XOEarth.org/works-members
network.
3/ You will be invited to print out our XOEarthWorks flyers, business cards and other materials that you can give door-to-door, post on bulletin boards, customize and use in advertising.
Liability Waver ::
Because XOEarthWorks does not test, observe, monitor or qualify the services performed by Members, and because Members are neither employees of, nor contractors for XOEarthWorks, XOEarthWorks assumes no liability and no responsibility for the services and products offered by Members.