Next up is XOEarth Man [or XOEarth Stele]. He dedicates at least 200 activist minutes a day to help stop the Climate Change Monsters that could mess with his town, mess up his life, mess with one of his friends or mess with some place where one of his favorite lifeforms lives.
Then every week, he celebrates if a Climate Change Monster has not messed with him, his town, his friends of the week and his fave lifeforms of the week.
When you see Stele, tell him how you do your 200 activist minutes a day and he will do victory dance, a cartwheel or sing a song to thank you. Or contact him via XOEarth.org or XOEarth facebook to get a virtual dance or song from him.
To get some rad and fun ways to amp up your 200 activist minutes every day, check out XOEarth.org/HERO200.
---
---
XOEarth Man's shows - with ecological songs, sing-alongs, green science and environmental awards - are rad and funny.
Look for XOEarth Man in your town or at festivals with an Earth globe on his shoulder and little animals in his hair. XOEarth Man will be talking with peeps about rad and fun ways to help protect our priceless, but endangered biosphere.
Hello, XOEarth Man here. Here are a few of the things that might happen an XOEarth Man Show:
+ The audience and I talk about how to estimate how much habitat is saved when a specific product is not purchased. For example, one calculation we may do in the show demonstrates that: every gallon of gasoline not burned helps save about 8 square meters of habitat potential somewhere in the world. Another calculation we may do demonstrates that: every time a person uses a clothesline instead of an electric or gas clothes dryer it helps save about 1.5 square meters of habitat potential somewhere in the world. [Based on ecofx.org's estimate of 1 kilogram CO2 to .8 square meters habitat potential ratio.]
+ The audience helps me write an environmental song. Audience members are then invited to become part of the XOEarth band. Once volunteers come onstage, we sing the environmental song that we just wrote - plus some improv. Audience members often video their friends singing the song, and post those videos on Facebook.
+ One of the audience members are invited to talk about an environmental action they are taking to help slow down climate change. Then that individual is awarded an XOEarth Award from the rest of the audience, for the environmental action that the person takes, or promises to take. XOEarth Man fills out the award, then everyone holds onto the award as we step forward and present the XOEarth Award to that person.
+ An audience member is invited to talk about their career plans. XOEarth Man and the friends then talk about how to make that career more sustainable and climate positive. In a lot shows, peeps have promised that they will tweak their job or even get a new job in order to be more earth friendly. The job of sustainability manager and coordinator is sometimes proposed.
Call or write for the rates for these environmental shows, custom songs or custom videos.
For all the life, XOEarth Man and Stele Ely
Boulder, Colorado, 80305
Contact us.
~~~~
More About XOEarth Man Shows
XOEarth Man is all about keeping the party alive on this exquisite planet. Find him cheering on Team XOEarth for taking [or for promising to take] specific eco logical personal and citizen actions.
Tell XOEarth Man something that you do to help extend the life of our blue orb and he will honor your eco action with a song, dance, XOEarth Award, future story or give you your own magic word [a word that has never heard before].
With his music, XOEarth Man guides the audience on journeys to hear from and sing with people, kids and critters from around the world and from the future. These journeys sometimes reveal how an environmental action that the audience promises to take will benefit a specific lifeform or specific human in the future.
As well as singing his favorite songs from XOEarth.org, XOEarth Man often sings improvised songs and leads singalongs based on input from audience members. Improvised songs are recorded so that audience members can hear their songs on XOEarth.org if they want to.
Along with the music in this XOEarth show, there are cool science facts, an environmental dance lesson, eco magic words, eco autographs, eco body art and fashion, nature mind melds, and/or XOEarth Awards.
When there is time, XOEarth Awards are given out to one or all of the audience members to honor their eco actions. In longer shows, everyone will receive an XOEarth Award. Sometimes the XOEarth Awards are signed by a future person or species - via a future journey led by XOEarth Man.
XOEarth Man's eco music, green science and environmental award show is upbeat and rad. As the Lorax spoke for the trees, XOEarth Man speaks for the animals of land, air and sea, and for the children of the future.
XOEarth Man takes his audience on future journeys to hear from and speak with critters and kids of the future. Ecological songs, sing-alongs, amazing science, magic words, green awards, mind melds, eco autographs, enviro fashion and XOEarth money are explored in these eco future journeys.
Grownups and kids at XOEarth Man shows get to find out how their eco actions benefit specific wild critters and specific humans of the future. XOEarth Man often gives out XOEarth Awards and/or does a wicked environmental dance or cheer to honor specific audience members for their eco actions too.
XOEarth Man also teaches people how to speak for their favorite species and future children. XOEarth Man can demonstrate how to call on one's favorite species to energize our life, work, love and environmental powers too.
XOEarth Man regalia includes the planet Earth cape, Earth globe head ware or other eco head ware, XO Earth face paint (with the X as a human and the Earth as the O), planet Earth bracelets, planet Earth necklace, temp tattoos and planet Earth clothing. XOEarth Man dons this 'eco fashion' to show he loves planet Earth and to inspire others to give some street cred to Team Earth too.
XOEarth Man can sing a song as part of a little XOEarth Honors ceremony to honor members of the audience for their eco actions. If an organizer, employer or teacher tells XOEarth Man in advance about the eco actions that one or more of the audience have taken, he will sing a custom eco song to honor their actions. Signed XOEarth Awards or other 'green awards' can be presented to the honorees after the song is sung. The good looking XOEarth Award can be framed if requested.
XOEarth Man is available for performances at schools, businesses, special events, weddings and videos.
So call or email XOEarth Man today to schedule his solo or four person XOEarth show, or the GreenBeanz Band. Take your friends, group or event on an eco-smart-fun-musical-magical-future-journey.
~~~~
Some XOEarth Man Songs
+ On The Clothesline
+ Under The Rainbow
+ SuperReduce ReuseRepair RecycleLidocious
+ Thanks For Biking/Growing A Garden/Volunteering For The Planet
+ The Earth Is Our Mother
+ Bike'n Groovy / Eat'n Groovy
+ Walk The Talk
+ To Bee
+ Wolverine Dreams
+ My World
+ 350 parts per million
+ For All The Life
For more info about the XO Earth environmental music and award shows starring XO Earth Man (sometimes called Earthy Man), check out *XOEarth Shows*. Contact XOEarth Man here.
PS: By the way, XOEarth Man and Stele Ely (XOEarth founder) have never been seen together at the same time.
Here's a scrappy street interview of XOEarth Man talking about the evolution of fun and Team Earth by Mollie Putzig /CU journalist.

Earth Man says that you can be an XOEarth Man or XOEarth Woman or XO Earth Kid too. Contact Earthy Man with any questions about how to put your outfit together and some easy and some big eco hero actions you can do today. Show you are on Team Earth. Show you are a hero for the planet.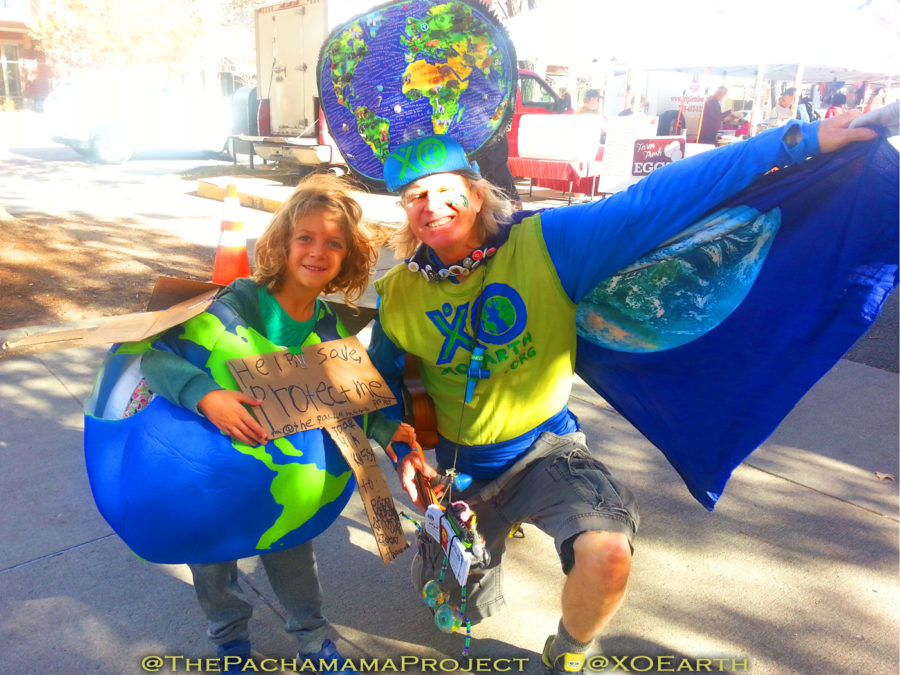 by Vandy Vandervort [Thanks Vandy!]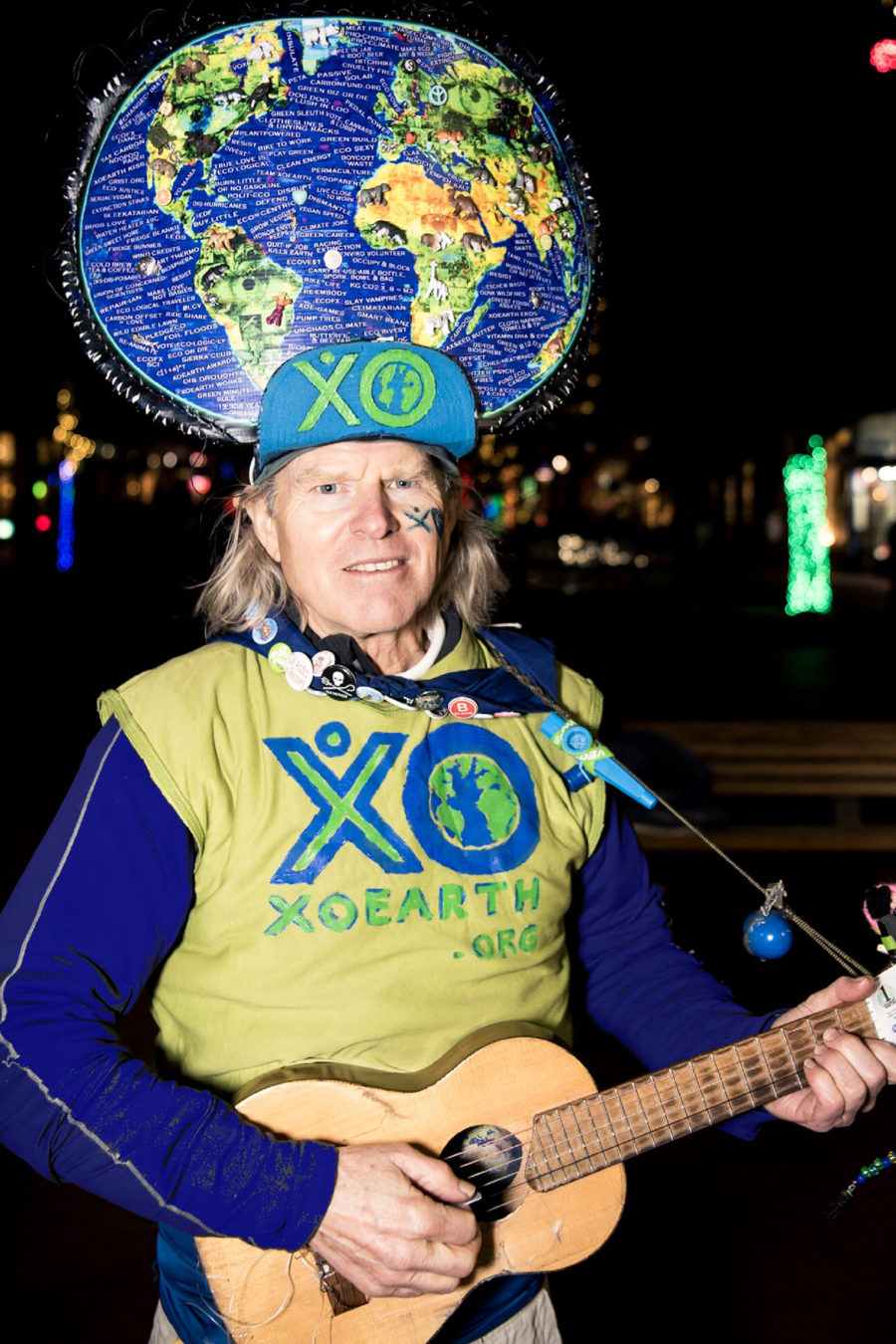 By Luke Dahlgren photographer [Thanks Luke!]