XOEarth Awards, environmental games and lesson plans
are a great way to get adults, teachers, students and kids to work together for the planet. Group ecological action promotes
team spirit and peace
.
Below are a few strategies
to power-up a new or existing environmental ed, club, group or school campaigns using XOEarth Honors::
+
Art, photography and media students
and others are invited to design new XOEarth awards, money, media and video. These designs can be created to support a specific environmental club or school campaign.
Plus, prizes and cash will be periodically awarded to students and others for the coolest XOEarth designs and ideas.
Art and media teachers can
emaiI us
to get the
*XOEarth Eco Money* lesson plan
.
+
To raise funds for environmental clubs,
the clubs can get sponsors to donate for each person who succeeds in completing an
XOEarth Challenge
. Those who succeed can be given an
XOEarth Environmental Award
,
XOEarth Awards/ Money
or some other XOEarth Honor.
To track and encourage honesty for the XOEarth Environmental Awards and/or XOEarth Awards/ Money given, the name of each of the individuals who receive the environmental awards or XOEarth Awards/ Money can be posted on a website, in an environmental club publication or in the local press.
+
One environmental fundraiser concept
is to get businesses to sponsor the printing of
XOEarth Awards/ Money
in a local newspaper or publication. Readers would then be able to cut-out the
XOEarth Awards/ Money
to use to reward eco actions. Stores would be mentioned as sponsors in the publication — next to the XOEarth money. Environmental clubs could also make a sales commission from the publication on the 'eco ad' placement. Plus, the
XOEarth Awards/ Money
could then be used to get an
XOEarth Credit/ Discount
at participating businesses.
We can make
custom XOEarth Awards/ Money
that includes the name of your environmental club or group on it if you want. Groups, organizations, environmental coordinators and company sponsored environmental incentive programs are invited to contact us too.
Those who want to give XOEarth Honors to support an environmental club or action can wear shirts and post signs that say, 'I Give XOEarth Honors for… (biking to school, bringing your own mug, etc)".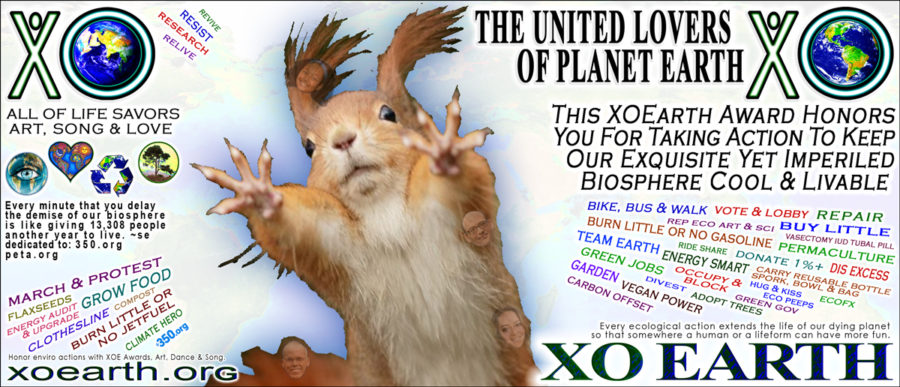 +
Another environmental rewards angle
is to
print-out
or handmake some stickers or buttons that say, "
I Give XOEarth Honors
", "I XOEarth" and other
XOEarth Honors slogans
for participants or students to wear.
Participants wearing the stickers/ buttons then go around and ask others to tell them about an ecological action they have taken in the last month (or week). If the person can state a relevant eco action they have taken, they are then given an XOEarth reward for that action. Reward examples include the
XOEarth Jump or Kiss
,
XOEarth Awards/ Money
,
XOEarth Bracelets
and the
XOEarth Art/ Song/ Word
.
Alternatively, participants wearing the stickers/buttons can use
Challenge XOEarth Awards/ Money
to invite others to take specific eco actions for the planet. To add an incentive to complete an eco challenge, a reward and/or a chance to win something can be given to those who complete the eco challenge. An online raffle, or a cardboard box raffle could be used for the latter reward.
+
Whether a person is an artist or not
— they can draw a little picture give it to someone for biking to work for a week, or for some other eco action. Or, the picture could simply be one that has been torn out of a nature magazine.
The *eco artist* might also want to add this to their picture: "thank you for riding your bike for our sweet mother Earth (or other applicable message)"; XOEarth.org and/or an *
E
* with a line over it.
+
An eco raffle is another easy campaign
that can be started by placing a box in a location where people can deposit the
Challenge XOEarth Awards/ Money
they have completed or signed, or, deposit the XOEarth Awards/ Money they have been awarded. A similiar raffle could be set up using a community website forum.
+
The Art/ Word page has more easy ways for kids and adults can get XOEarth. Opps page
has opportunities for environmental clubs, students and citizens that are more in-depth.
Awards From XOEarth Man or Woman ::
+
Put on your
XOEarth Man or Woman
outfit and then honor others. Checkout
XOEarth Man in Boulder
for some ideas for your XOEarth gear, or invite or hire him to sing and give out XOEarth Awards at your biz, party or event.
The above are some of the ways
to use XOEarth in an environmental club or in environmental education. Contact us for complete descriptions, lesson plans, multi-lingual, language ed, fundraising and environmental games materials.